Ritsumeikan University – 2021 April intake
Posted by heo
---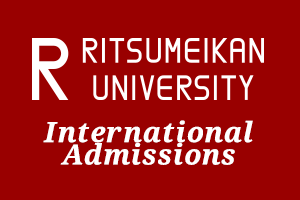 Ritsumeikan University is now accepting applications for 2021 April intake. Kindly share this email to your students and also graduates who are reconsidering education plans due to the outbreak of COVID-19.
Application Period: 2020/8/26 Wed. – 2020/9/15 Tue.
Programs that are open for Application:
■Global Studies Major, College of International Relations
■American University-Ritsumeikan University Joint Degree Program, College of International Relations
■ Information Systems Science and Engineering Course, College of Information Science and Engineering
■College of Global Liberal Arts
For 2021 September intake, see here for the upcoming Application Periods.
Application Guide:
Here is a step-by-step application guide for students & counselors
Invitation to our Webinars: HERE
We share our stories and application tips. Come join and start the conversation.