Monthly Archives:
May 2018
Posted by heo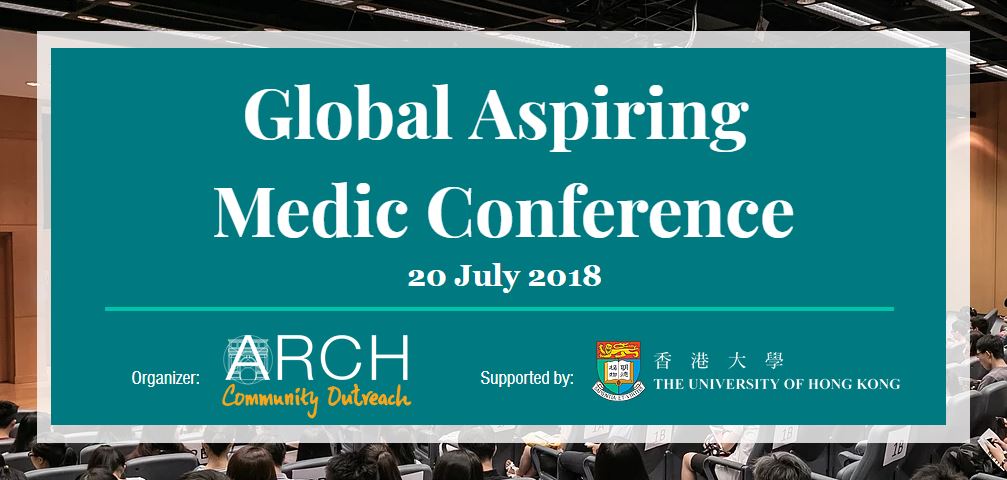 Global Aspiring Medic Conference 2018
Keynote Forums, Clinical Workshops, Medical School Admissions& more!
GAMC is the largest student medic conference in Asia, with more than 400 participants and speakers including medical professors, researchers and practitioners from top global institutes.
This year, we are taking a "futuristic" and alternative" view towards medical healthcare! We have top researchers and practitioners from Harvard, Exeter and Hospital Authority sharing their experience in transforming medical care through technology, innovation and entrepreneurship! They will bring to students first hand insights in the context of Silicon Valley innovations, genetics technologies, precision medicine and world extreme medicine!
Beyond an impressive speaker series, students will also have the opportunity to participate in "Clinical Workshops" and learn from current medical practitioners with professional background from Ophthalmology, Robotics, Respiratory ENT, Psychology and Chinese Medicine! Students will also be challenged to a "Problem Based Learning" task! There will also be the popular session on Medical School Admissions hosted by representatives from professional medic consultants. Students are also encouraged to learn from these impressive individuals on how they gained qualification at top universities in the UK, US, and Hong Kong!
Date: July 20 (Fri)
Venue: The University of Hong Kong
Eligibility: Rising F4-F6 / Y11 – Y13 Students
Sessions & Fee:
Full Date Event: 08:30 – 17:00, HKD$980/student (Covers Keynote Speakers Forums & Clinical Workshops)

Half Date Ticker: 08:30 – 12:30, HKD$480/student (Covers Keynote Speaker Forums only)
Event Speakers:
Dr. Will Polkinghorn

Co-Founder and CEO of Driver; Former Harvard Oncologist

Dr. William Cheung

Registered Chinese Medicine Practitioner; Former Deputy Chief CMP of the Integrative Medical Centre at CUHK

Dr. Angus Hsu

University Admissions Consultant (Medicine) of ARCH Education

Ms. Jennifer Ma

Director of University Admissions &
Co-Founder of ARCH Community Outreach
Dr. Alan Kwok

Founder & Director of LeGENE Personal Genetic Centre; Specialist in Respiratory Medicine

Dr. Douglas Lam

Honorary Assistant Professor at CUHK;
Visiting Lecturer at PolyU;
Specialist in Ophthalmology

Dr. Malcom Hilton

Honorary Senior Lecturer, University of Exeter Medical School; Programme Lead for Extreme Medicine; Hospital Sub-Dean, Consultant Otolaryngologist

Dr. Roland Leung

Adjunct Associate Professor, Department of Pediatrics, CUHK; Consultant Respiratory Physician at Hong Kong Sanatorium and Hospital, and Hong Kong Adventist Hospital