Blog Tag: Advocacy
Posted by Peter MUIR
You may have seen them online, on Facebook or even been sent an email requesting that you sign a petition.  In fact I have posted about petitions that DC students could sign for issues right here in Hong Kong on this blog.  But do they work?  Yes – when well planned and a part of a campaign.  Here is a message from one of the biggest online petition organisations – Avaaz.org about their successes with petitions.
I often get asked by Avaazers, "what happens after I sign a petition?" And the truth is, a HECK of a lot! Every Avaaz campaign springs from a massive global mandate, and then zeroes in on the best way for our voices to win. Here's just two of our victories from the last few months:
Recently 2 million of us came together to stop the flogging of a 15-year old rape victim in the Maldives. Her sentence has been quashed! Here's what our team did to win:
Spoke for hours with the Maldivian Attorney-General and Ministers and emailed the President at his personal account.
Commissioned opinion polls showing massive support for reforms to protect girls. And wrote an Op-Ed in a major national paper.
Persuaded a top Islamic scholar to speak out against flogging.
Threatened to run an ad (right) in tourism publications, affecting the country's major industry.
Visited the Maldives and the location where the girl was held, pressing officials directly.
Ahmed Shaheed, former Foreign Minister of the Maldives said "The Avaaz contribution was the spearhead of the campaign to overturn the flogging sentence; a petition signed by millions, a country visit, a public opinion survey, and persistent follow-up all proved irresistible."
Another example: almost 2 million of us rallied to stop the Maasai tribe in Tanzania from being kicked off their land for a hunting reserve. In September, the Prime Minister announced they could stay! The petition provided a powerful basis for what the team did next: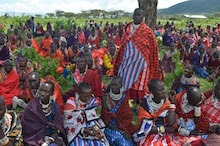 Got CNN and the Guardian to visit the Maasai and break the wider story to the world.
Advised Maasai elders on their campaigning strategy.
Flooded Ministers and the President with messages — forcing debate in cabinet and Parliament.
Ran a hard hitting newspaper ad in an influential paper which publicly shamed the government.
Persuaded diplomats worldwide to raise the issue — embarrassing the government.
Financially supported Maasai elders to travel to the capital where they gathered to 'occupy' land outside of the Prime Minister's office for weeks, refusing to leave until he met them.
What is noticeable about these petitions is that they are much more than just a petition – the petition is part of a well-planned advocacy campaign.  What changes could you make through petition?  How could you use a petition as a tool in your advocacy campaign?